Importation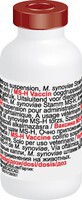 Since 2018, Laboratoire LCV has been authorized to import veterinary medicinal products with Market Authorization manufactured outside the EU. This authorization allows us to import, release and store samples for batches of sterile veterinary immunological medicines, aseptically prepared...
In partnership with a logistics platform, Laboratoire LCV manages the logistics of imported medicines between France and European distributors.
Laboratoire LCV ensures the pharmacovigilance of imported products.